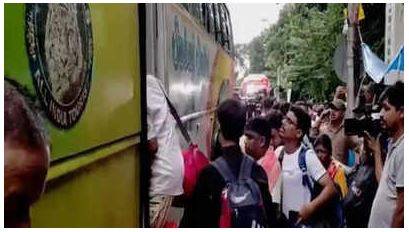 Denied a special train a day before their journey, hundreds of Trinamool supporters and MGNREGS job card holders left here on 50 long-distance buses for Delhi to participate in two protest rallies. Party national general secretary Abhishek Banerjee addressed supporters via Facebook Live, assuring peaceful demonstrations in the national capital despite multiple attempts to thwart them.

Hailing the "people's protest", Banerjee said if any supporter was assaulted (on their way to Delhi), a reply would be given by the "people's court".

The buses are to travel via Jharkhand, Bihar and Uttar Pradesh and are likely to take two-and-a-half days to cover the distance. This, however, means that only MPs, ministers and Banerjee, flying or travelling by train, will make it to Rajghat on Gandhi Jayanti. "There is little we can do about it now. But if there is no trouble en route, the protesters are likely to attend the major protest rally on October 3," said a TMC MP.

"Our people have become victims of BJP's vendetta politics. However, it will be your biggest mistake if you consider TMCweak and that we will bow down before your pressure tactics. We are born from grass flowers. The more you attempt to cut us, the faster we will grow," Banerjee said.

"On October 2, our MPs and state ministers will pay homage to Mahatma Gandhi at Rajghat and will organise a two-hour dharna," Banerjee further said. On October 3, Banerjee said, a peaceful rally would be held at Jantar Mantar. On Saturday, 50 long-distance buses left the city in phases between 2 pm and 6 pm, carrying protesters who had gathered at Netaji Indoor Stadium from multiple districts. Several politicians took trains and flights to Delhi.