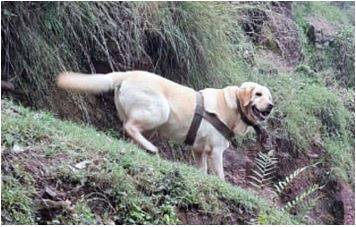 A group of militants was encircled following a tip-off, reports say; Army says additional troops are in place to prevent militants from escaping.

One militant and an Army jawan were killed and three security personnel — two Army jawans and a J&K Police's special police officer — injured in an ongoing encounter in Rajouri district of the Pir Panjal valley on Tuesday.

Preliminary reports on Tuesday suggested that a group of two or three militants was encircled following a tip-off by the police in the Narla area of Rajouri district. The gunfire that ensued between the militants and the security forces continued till Tuesday evening.

"One militant has been killed," the police said.

Additional troops have been rushed to the area to thwart any attempt by hiding militants to escape from the encounter site.

A Defence spokesperson said a brave Army dog, a six-year-old female Labrador from 21 Army Dog Unit, also lost her life in the encounter while saving her handler.

"Army dog Kent was at the forefront of 'Operation Sujaligala'. Kent was leading a column of soldiers on the trail of the fleeing terrorists. They came down under heavy hostile fire. While shielding her handler, she laid down her life in the best traditions of the Indian Army," he said.