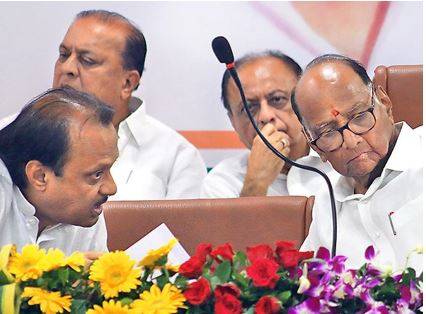 The Sharad Pawar-led Nationalist Congress Party (NCP) has petitioned the Deputy Chairperson of the Maharashtra Legislative Council, Neelam Gorhe, to disqualify the legislators of the rebel faction led by Deputy Chief Minister Ajit Pawar from the House.

According to sources, two applications on the disqualification of rebel MLCs — one from NCP State president and Sharad Pawar loyalist Jayant Patil, and the other from Jitendra Ahwad, general secretary of the Sharad Pawar-led NCP group — have been received by Ms. Gorhe.

Mr. Patil's application seeks the disqualification of NCP legislators Vikram Kale, Satish Chavan, Amol Mitkari, and Aniket Tatkare, while Mr. Ahwad's petition seeks action against veteran NCP leader and long-time MLC Ramraje Naik-Nimbalkar.

'No entry for rebels'

The move comes more than two months after Mr. Ajit Pawar and eight other NCP MLAs split the party by aligning with the BJP-Shiv Sena government.

It also comes a day after Mr. Sharad Pawar, at a meeting of his faction's leaders in Mumbai on Sunday, suggested that he might not take back the rebel leaders, and that fresh faces could be given tickets in the upcoming polls.

On July 2, the day of the rebellion, the Sharad Pawar group had moved a petition before the Assembly Speaker, Rahul Narwekar, seeking the disqualification of the nine MLAs.

Since then, the rebel faction has staked claim to the party name and symbol before the Election Commission. Mr. Ajit Pawar also claimed to be the new NCP president. Last week, in its response to the rebel faction's claims, the Sharad Pawar group told the EC that there existed no split within the party except for "a few mischievous individuals, who for their personal ambitions have defected from the party".