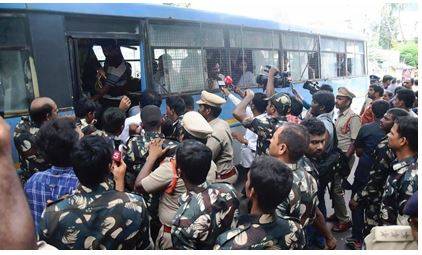 Personnel from Andhra Pradesh Special Police battalions, Quick Response Teams, Octopus and other platoons deployed; curfew-like situation prevails in many parts of the State; TDP cadres kept under house arrest to prevent violent incidents.

Even as tense moments prevailed till late in the evening on Sunday on whether the special court here would grant bail to TDP national president and former Chief Minister N. Chandrababu Naidu, or send him to remand, the police deployed security forces in strength across Andhra Pradesh.

But with the court sending Mr. Naidu to 14-day remand, with him likely to be shifted to Rajamahendravaram Central Jail, a high alert has been sounded across the State.

Keeping the law-and-order issue in view, authorities-imposed Section 144 of the Code of Criminal Procedure across the State, and people were advised not to move in groups and carry any lethal weapons.

Police forces were deployed at the special court. Public movement was restricted in the vicinity of the Civil Courts Complex, where barricades were set up and rope parties deployed to control crowds.

A few Telugu Desam Party (TDP) leaders were taken into preventive custody by the police when the party workers tried to stage a protest near the court. Patrolling was intensified to prevent any untoward incidents. A curfew-like situation was seen in many parts in the State.

Personnel from the Andhra Pradesh Special Police battalions, Quick Response Teams, Octopus and other platoons were deployed.

Security was stepped up at the Chief Minister's residence, the police headquarters and other high-security areas. Traffic was diverted and regulated on some roads.

Additional forces were positioned in the bus and railway stations, government offices, houses of Ministers, MLAs, Members of Parliament and MLCs.

With the TDP leaders planning to stage protests in some places, the police arranged pickets and kept the cadres under house arrest.