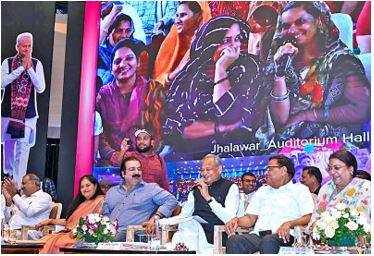 Rajasthan CM transfers money directly into the bank accounts of 14 lakh families under the Indira Gandhi Gas Cylinder Subsidy scheme; beneficiaries were identified at the recent inflation camps.

Co-opting the Bharatiya Janata Party's 'Labharthi' concept, Rajasthan Chief Minister Ashok Gehlot on Monday released the direct benefit of subsidy on the liquefied petroleum gas (LPG) cylinders to the poor families, which was earlier stopped under the Centre's much-publicised Ujjwala Yojana. Mr. Gehlot transferred ₹60 crore as subsidy into the bank accounts of 14 lakh registered beneficiary families.

At a 'Labharthi Utsav' (beneficiary festival) organised by the Congress here, Mr. Gehlot said his government was giving a subsidy of ₹650 for each cylinder to keep its price at ₹500.

The Pradhan Mantri Ujjwala Yojana, launched in 2016, gave the first cylinder free-of-cost, after which the beneficiaries were required to pay full amount for the subsequent cylinders.

More beneficiaries

The State government's Indira Gandhi Gas Cylinder Subsidy Yojana has made a provision for supplying 12 LPG cylinders in a year for the below poverty line (BPL) families in a year. In addition to the beneficiaries registered under the Ujjwala Yojana, its benefit will be available to all BPL families, with gas connections, getting themselves registered at the inflation relief camps.

The cost of an LPG cylinder stood at ₹425 when the Ujjwala Yojana was started. It has since escalated to ₹1,150 each. Mr. Gehlot said the State government's scheme would benefit all of those who were unable to refill their cylinders.

Addressing the function, Mr. Gehlot unleashed a scathing attack on the Opposition BJP, saying it had nothing to say against the Congress government because of the "unprecedented development works" done under his dispensation. Mr. Modi's "adamant attitude" had led to the BJP's defeat in Himachal Pradesh and Karnataka recently, while the Congress was emerging victorious because of people's faith in its policies, he added.

While the BJP has been harping on its 'Labharthi' constituency, having created a loyal vote base nationally, Mr. Gehlot seems to have repurposed the concept for the benefit of Congress.

The Chief Minister had announced the LPG subsidy scheme at a public meeting organised during Congress leader Rahul Gandhi's Bharat Jodo Yatra at Alwar district's Mala Kheda village on December 19, 2022. It was started for the eligible families from April 1 this year.