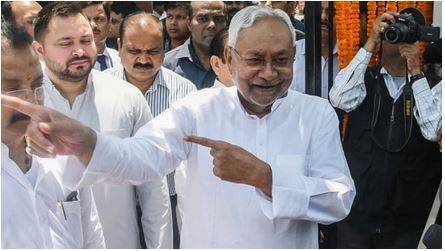 At least 288 people have been killed and over 1000 were injured in a horrific three-train collision.

Bihar chief minister Nitish Kumar said that when he was the railway minister in the Atal Bihari Vajpayee government, he promptly tendered his resignation when an accident occurred in West Bengal's Gaisal. However, he expressed uncertainty about whether the current railway minister Ashwini Vaishnaw should follow suit and resign in the wake of the disastrous triple train accident in Odisha, which tragically claimed the lives of at least 288 people.

'A train accident took place in West Bengal when I was the railway minister. I immediately asked the then PM Atal Bihari Vajpayee to accept my resignation. Earlier the Railway budget was presented separately but this new government has abolished the separate Railway budget... I will not comment if Railway Minister Ashwini Vaishnaw should resign or not,' Bihar CM said.

Oppositions seek railway minister's resignation

Kumar's remark came after Opposition parties, including Congress, called for the immediate resignation of Vaishnaw, while also criticising Prime Minister Narendra Modi. The grand old party asserts that the Prime Minister should acknowledge his share of responsibility for perpetuating an illusion of normalcy, despite the deteriorating condition of Indian Railways infrastructure, which has been ignored and neglected.

West Bengal chief minister Mamata Banerjee termed the horrific train accident in Odisha the 'biggest of the century' and has called for an investigation into the absence of an anti-collision system on the trains, which could have prevented the disaster.

BJP on railway minister's resignation demands

Hitting back Bharatiya Janata Party's IT cell head Amit Malviya urged opposition parties not to politicise the incident, and said the track record of the Congress-led UPA government's railway ministers was nothing short of a disaster.

Malviya said: 'Stop politicising the unfortunate Balasore tragedy because track record of railway ministers, under the UPA, to put it mildly, was nothing short of disaster. Let us focus on relief and rescue operation and putting life and rail back on track, at the earliest.'

Odisha triple- train accident

At least 288 people have been killed and over 1000 were injured in a horrific three-train collision. The crash involved the Bengaluru-Howrah Superfast Express, the Shalimar-Chennai Central Coromandel Express, and a goods train.