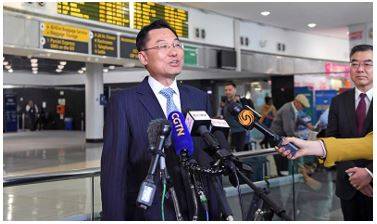 'I have come here to enhance China-U.S. exchanges and cooperation, and I take this as my important mission,' veteran diplomat Xie Feng tells reporters after arriving in Washington.

China's new Ambassador to the U.S. finally landed in Washington on Tuesday, filling a post that unusually remained vacant for close to five months and heralding what some observers see as a possible sign of a limited thaw in recently frosty relations.

Veteran diplomat Xie Feng, who has spent much of his career dealing with the U.S., told reporters after landing in Washington that he had "come here to enhance China-U.S. exchanges and cooperation, and I take this as my important mission". He also added that "as a representative of the Chinese people, I have come here to safeguard the interests of China, and I take this as my sacred responsibility." Mr. Xie succeeds Qin Gang, who was promoted as China's Foreign Minister, after a close to five-month gap, leaving a key post vacant during tense relations.

Beijing is also yet to appoint a new Ambassador to New Delhi for almost seven months, another unusually long gap amid a continuing chill in ties. The former envoy, Sun Weidong, left his post in October and took over as a Vice Foreign Minister in Beijing. It is understood that Beijing as of this month had not yet proposed the name of a successor to New Delhi.

The new U.S. envoy, Mr. Xie, noted that "at present, the China-U.S. relationship is faced with serious difficulties and challenges" and referring to President Xi Jinping's "three principles of mutual respect, peaceful coexistence, and win-win cooperation", said China "hopes that the U.S. will move in the same direction with China, and act in the common interests of the two peoples and the world, properly handling important and sensitive issues, such as the Taiwan question... so as to bring China-U.S. relations back to the right track."

U.S. President Joe Biden last week said a thaw in recently strained relations could be possible "very shortly", speaking after the G-7 Summit in Japan which saw the grouping take a united stand against what they called Chinese economic coercion, sparking a sharp response from Beijing. The Chinese Foreign Ministry on Monday took a dim view of Mr. Biden's comment, questioning U.S. "sincerity".

Resuming visits

Both sides have, however, been in talks over resuming high-level visits. A blueprint agreed by Mr. Biden and Mr. Xi following their meeting in Bali in November laid out a plan to boost relations, but tensions over the Chinese "spy balloon" incident led to Secretary of State Antony Blinken calling off a visit that was part of that plan.

National Security Advisor Jake Sullivan and Chinese Politburo member Wang Yi met for two days of talks in Vienna earlier this month, part of what was described as "ongoing efforts to maintain open lines of communication and responsibly manage competition".