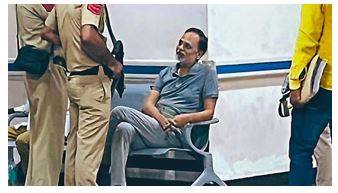 Arvind Kejriwal prayed for the speedy recovery of Satyendra Jain saying, 'May God give him the strength to fight against these adverse circumstances.'

Delhi chief minister Arvind Kejriwal hit out at prime minister Narendra Modi on Thursday, hours after Aam Aadmi Party colleague Satyendra Jain was injured in Tihar Jail, where he has been held since May last year facing money laundering charges.

Kejriwal tweeted 'a dictator is bent on killing that good person'.

Jain, Delhi's former health minister, was rushed to the city's Deen Dayal Upadhyay Hospital this morning after falling in a prison washroom; he had minor injuries, jail officials told news agency PTI.

Jain has been put on oxygen support and has been shifted to Lok Nayak Jai Prakash Hospital (LNJP) for further treatment.

'The person who was working day and night to provide good treatment and good health to the public… today a dictator is bent on killing that good person. That dictator has only one thought - to finish everyone, he lives only in 'I'. He only wants to see himself,' a furious Kejriwal tweeted.

'God is watching all, He will do justice to all,' the chief minister declared.

Arvind Kejriwal also prayed for his ex-cabinet member's swift recovery, tweeting, 'May God give him the strength to fight against these adverse circumstances.'

Earlier today, Sanjay Baniwal, Delhi's Director General (Prisons), said Jain had been kept under observation for general weakness in the jail's hospital and that he slipped and fell in the bathroom.

'He was examined by doctors (at Tihar Jail) … they found his vitals normal. He was referred to Deen Dayal Upadhyay Hospital as he complained about (a) pain in his back, left leg and shoulder. According to doctors there (at the hospital), his condition is stable, and he is out of danger,' Baniwal said.

On Monday, Jain was taken to Delhi's Safdarjung Hospital after he complained of ill health. Kejriwal had then too criticised the ruling Bhartiya Janata Party over its 'oppression' of the AAP leader.

The people of Delhi and the country are watching this arrogance and oppression of the BJP government very well. Even God will never forgive these oppressors. The public is with us in this struggle, God is with us, we are the disciples of Sardar Bhagat Singh. Our fight against oppression, injustice and dictatorship will continue,' the Delhi CM had said.

The AAP, which holds the reigns of the Delhi government, and the BJP, which is in power at the centre, have been frequent and fierce rivals on a number of political and governance-related issue, including the centre's controversial ordinance for control of bureaucratic services in the city.