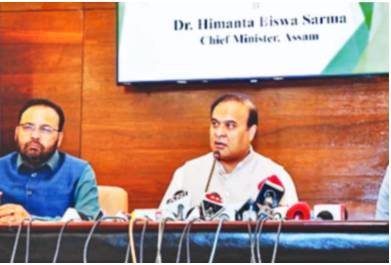 GUWAHATI: The Assam cabinet on Monday directed the state police to launch a crackdown on men who have married girls below the age of 14 and arrest them under the Pocso Act, while those who have married girls in the 14 to 18 age group will be arrested under the Prohibition of Child Marriage Act, 2006.

Chief minister Himanta Biswa Sarma said more than one lakh girls in the state were married before coming of age, according to rough estimates.

Citing the National Family Health Survey-5

(2019-20) report, Sarma said the number of child marriages in Assam is on the rise. 'In one of our own surveys, we have found that a girl in the state aged just nine years has become a mother,' he added.

'As the previous governments did not pay attention to the Prohibition of Child Marriage Act, 2006 to prevent child marriages in the state, our infant mortality and maternal mortality rates continue to remain among the highest in the country.

This is a historical mistake and we are trying to correct it. Hopefully years from now we can make Assam completely free of child marriages,' the Assam CM said.

According to the NFHS-5 survey, women aged between 20 and 24 years who were married before age 18 years, constitute more than 31% of the women in Assam, as against the national average of over 23% in 2019-20.

Assam's latest figure is 1% more than what was recorded by NFHS-4 for 2015-16.

The percentage of child mothers is more than 11% in the state, Sarma said The cabinet also decided to designate all the 2,197 gram panchayat secretaries in the state as 'Child Marriage Prevention (Prohibition) Officers' under the Prohibition of Child Marriage Act, 2006 and 'they will lodge FIRS under the Pocso Act in cases where the age of the bride is under 14 years and under the Prohibition of Child Marriage Act, 2006 in cases where the bride is between 14 years and 18 years,' the cabinet brief read.

Sarma said, 'The cabinet has directed the police to start a state-wide crackdown on those who are party to child marriages Action will also be taken against the parents and the priests or the kazi who performed these illegal marriages. 'The number of child brides is maximum in the lower Assam districts where minority Muslims are concentrated than in areas in upper Assam and the hills. Dhubri district in lower Assam has the highest percentage of women, over 50%, who were married before attaining 18 years of age, followed by Salmara (44%).